Riding with Dan Stuart
June 29th, 2014
In May we had the pleasure to do a shortish two-gig tour with "the grumpiest man in showbusiness" ex-Green on Red frontman Dan Stuart. But it didn´t take many seconds of twanging before he was all smiles – as you can see from this 15 minutes clip from Southside Cavern, Stockholm, May 10th.
Read more…
Green on Red´s Dan Stuart till Stockholm lördag och Malmö fredag
May 6th, 2014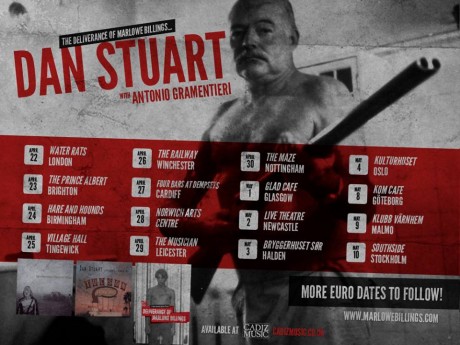 Read more…
Paisley underground legends to Sweden – we´re opening for The Dream Syndicate and for Dan Stuart
April 22nd, 2014

Three major dates coming up in May for fans and friends of the 1980´s paisley underground scene. 2 May The Dream Syndicate play at Nalen, Stockholm. 9 May and 10 May ex-Green on Red-cat Dan Stuart play in Malmö and Stockholm. Yours trulies are opening on all three dates.
Read more…