Swedish tour with The Cynz who we played with in New York and New Jersey
March 26th, 2014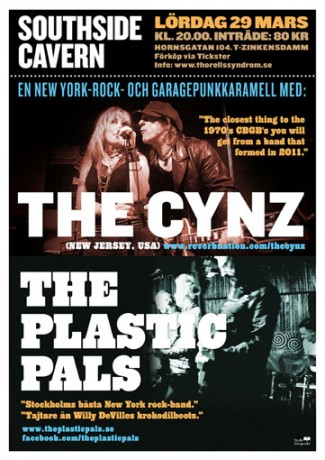 This week our pals The Cynz from New Jersey are coming to Sweden. Fronted by bombshell Cyndi Dawson – spoken word and poetry rock and roll femme fatale with an amazing stage persona – they´re a rock and roll tsunami that recalls the CBGB´s days and artists like Patti Smith and Jim Carroll. And now they´re playing with us in Eskilstuna, Stockholm and Uppsala. Can´t wait!
Read more…
The Final Remedy – a new single
February 5th, 2014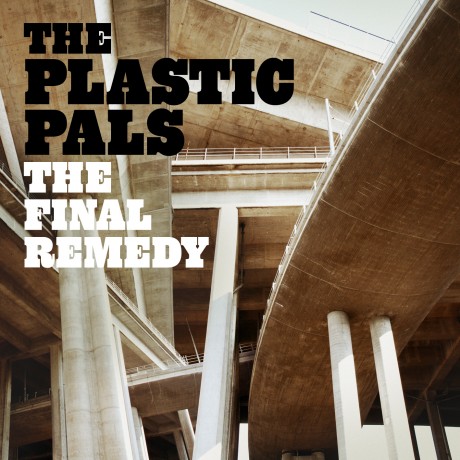 The Final Remedy. That´s the title of our new single that will be released Friday 7 February. There will also be a video – so watch this space. Friday we´re also having a release party at our home ground – Pet Sounds Bar, Stockholm.
Read more…
Getting ready to take Manhattan… and Brooklyn… and New Jersey – but first we take the Pet Sounds Bar
November 7th, 2013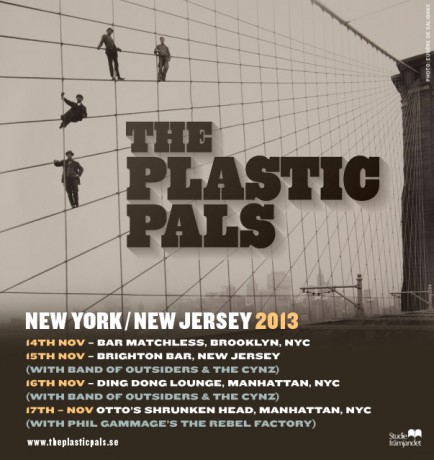 "Sorry it took so long, but we were just tuning." Just like everybody else we were devastated to hear the news about Lou Reed´s passing. And now this quote from his Live Take No Prisoners album comes to mind. So sorry for having neglected this page for a while. But we´ve been busy tuning. Tuning this rock and roll machine of ours into perfection for our first plunge across the Atlantic pond.
Read more…
Dalarna here we come – opening for The Nomads
June 13th, 2013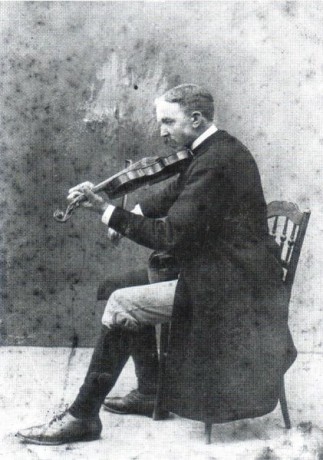 Another opening band feather in the cap for us Plastic Pals. Having opened for luminaries as Chuck Prophet, Steve Wynn & The Miracle 3 and The New Christs (with Rob Younger from Radio Birdman and Jim Dickson from The Barracudas) it´s now time for The Plastic Pals to open for The Nomads. The show´s in Borlänge at Restaurant Liljan Friday today 14th June.
Read more…
The Relentless Turn The Tide Tour goes to Liverpool and London
May 14th, 2013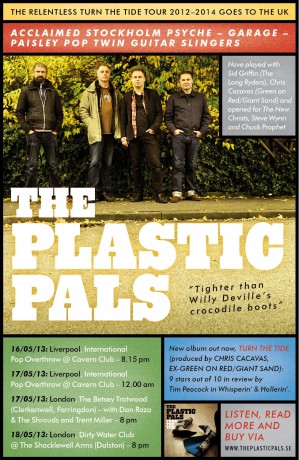 This week – 16th May to 18th May – The Plastic Pals are going on a mini tour to the UK. Thursday May 16 and Friday May 17 we´re playing at The Cavern Club as a part of the line up for the 11th festival Internartional Pop Overthrow, Liverpool. Straight after last Liverpool gig, Friday 17th May, we go straight down to London to play at The Betsey Trotwood in Clerkenwell. Last gig of this tour is Saturday 18th May when we play at the Dirty Water Club at The Shacklewell Arms in Dalston, London.
Read more…
Italian band Lowlands on a double bill with us in Stockholm April 20
March 28th, 2013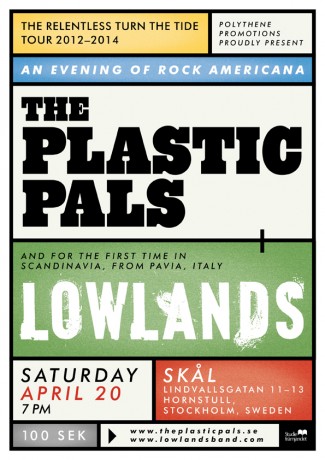 Saturday April 20 is a not-to-miss-date for friends and fans of americana, roots rock and psychedelic jangly guitar pop in Stockholm. The Plastic Pals have invited fantastic Italian americana band Lowlands for a double bill gig at Skål, Hornstull, Stockholm.
Read more…
Lots of airplay for Turn The Tide
March 28th, 2013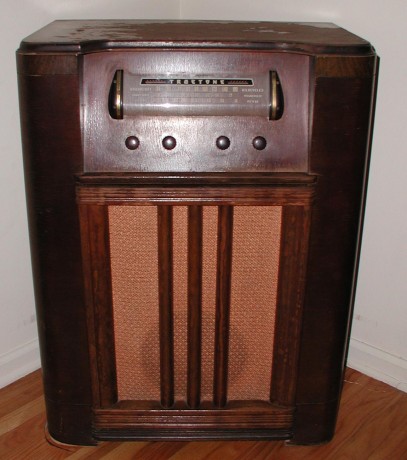 Tunes from our new album Turn The Tide are getting a lot of airplay right now in Holland, Germany, the UK, Sweden and Denmark. This weekend – Friday March 29 and Sunday March 31 on the Along The Tracks from the UK.
Read more…
New album "Turn The Tide" released today – listen to it here!
February 5th, 2013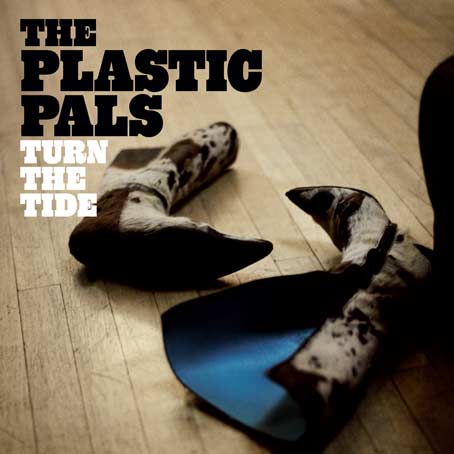 Today February 6th our precious new album Turn The Tide is released. We celebrate this by streaming the entire album here:
Read more…
The Vinyl Remedy – new album (180 grams vinyl) soon available for pre-order
November 15th, 2012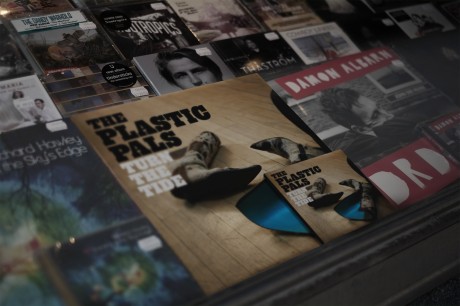 Yes, yes, yes….It´s been a long time waiting. We know! But soon the new album Turn The Tide will arrive from the pressing plant in Essex, UK. An 180 grams deluxe vinyl in a limited run of 300 copies (including CD with all 13 tracks). And soon we´ll start taking pre-orders. Interested?…
Read more…
Don´t let this moment pass you by
September 5th, 2012
Hi all Pals! Hope your summer´s been real good and that you´ve missed us as much as we´ve missed you. We are getting back into the swing rehearsing, preparing for the release of the new album Turn The Tide (release in January 2013) a new single release in November and booking new gigs. In the meantime we give you this videoclip – by way of the one and only Stargirl B-grrrlie – from our latest gig, with Little Steven´s Underground Garage´s favourites Stupidity at The Liffey in Stockholm: Here comes the sun, "Riding the rollercoaster, don´t let this moment pass you by"

Read more…