Airplay on House of Mercy from London
March 3rd, 2013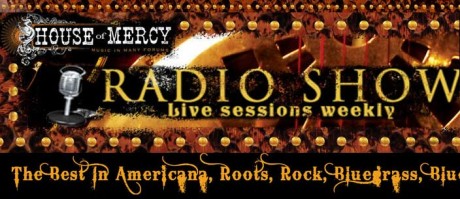 Saturday March 2 The Plastic Pals were added to the playlist on House of Mercy Radio Show hosted by Barry Marshall Everitt. Barry is a great supporter of americana and roots music and have played us Plastic Pals on his show before. Nice to be back! Check for your radio station playing House of Mercy Radio Show on the House of Mercy website.
Read more…
Plastic Pals in acoustic instore at Pet Sounds Records, Stockholm
February 28th, 2013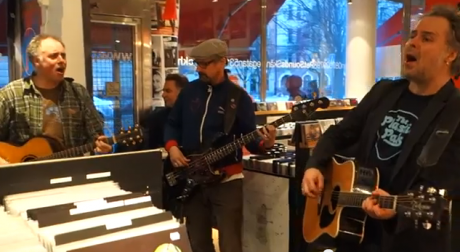 The other day we played an acoustic instore at Pet Sounds Records here in Stockholm. We love doing these laid back shows as much as we love playing electric shows.
Read more…
New radio single out this week: Providence
February 26th, 2013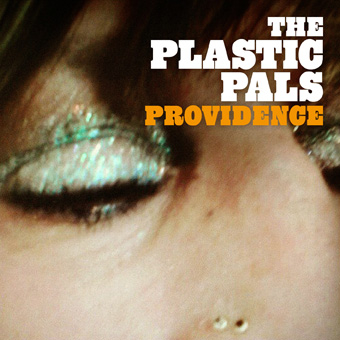 This week we´re releasing a new radio single Providence from our album Turn The Tide. Add date March 1st. But if you´re curious you can listen to it here. Just click the widget below and get down and get with it, folks!
Read more…
That´s what you´re here for
February 26th, 2013
Just got the news that Steve Wynn persuaded Chris Cacavas to play his Green on Red classic That´s what you here for (which he wrote and then sang on the Gravity Talks album) the other night on their joint European tour. Apparently he (Chris) got worried that he wouldn´t remember the words to it. Maybe that´s why him and Steve Wynn ran such a slow (but very nice) version of it. Us Plastic Pals, we take no prisoners. When Cacavas was in Stockholm a year ago (Jan 21) and played with us we just – without warning – basically stuck a lyric sheet in front of him and counted in: 1,2,3…
Read more…
New album "Turn The Tide" released today – listen to it here!
February 5th, 2013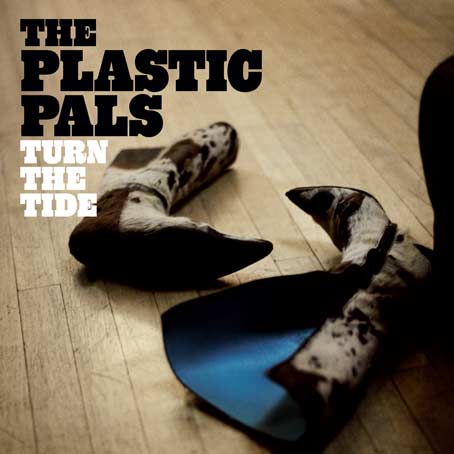 Today February 6th our precious new album Turn The Tide is released. We celebrate this by streaming the entire album here:
Read more…
December 20th, 2012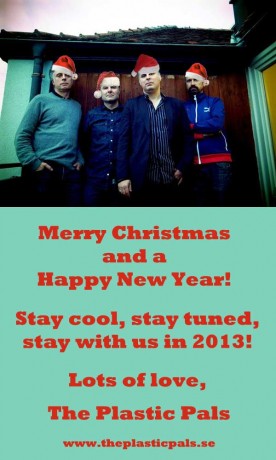 First of all, from all of us at The Plastic Pals mothership to all of you, thanks for all your support and a Merry Christmas and a Happy, Healthy and Prosperous New Year. As a token of our gratidude to you supporting us we have a Christmas gift for you. Just click the picture above and there you go. Also wanna tell you that we are now taking pre-orders of new album Turn The Tide.
Read more…
The Vinyl Remedy – new album (180 grams vinyl) soon available for pre-order
November 15th, 2012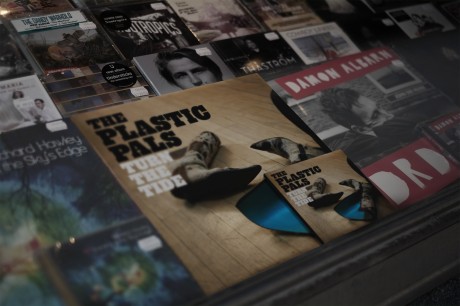 Yes, yes, yes….It´s been a long time waiting. We know! But soon the new album Turn The Tide will arrive from the pressing plant in Essex, UK. An 180 grams deluxe vinyl in a limited run of 300 copies (including CD with all 13 tracks). And soon we´ll start taking pre-orders. Interested?…
Read more…
Do you remember the Saturday gigs?
October 2nd, 2012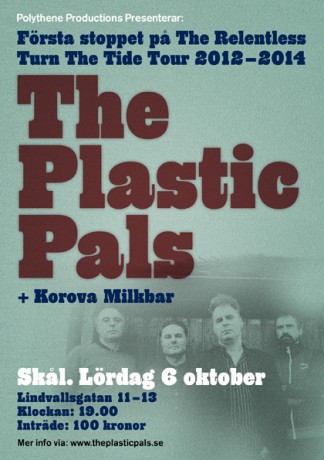 We do… we do… And this Saturday we´re doing a double bill with the awesome reunited Korova Milkbar at the same crime scene as when Chris Cacavas was here in Stockholm in January: Skål.

Read more…
Hawk in interview with Final Frontier Radio (US)
June 2nd, 2012
Friday June 1 Hawk was interviewed by Rick Busby on Final Frontier Radio (Harrisburg, PA, USA). Chatting on the band, the story about the band and the name of the band, the story behind the Good Karma Café album, the new album and plans for future gigs. Tunes played were "Leave it ´til tomorrow" and "The Sweet Spot".
Read more…
PalsHeads from the Valley of Light
June 1st, 2012
A cool bunch of guys from Ljusdal (means Valley of light) – that´s in Hälsingland, Sweden – turned up at our gig The Liffey in Stockholm Saturday May 26. One of them got so excited he bought Plastic Pals t-shirts to all his pals. So now we´ve extended our cool group of PalsHeads to Ljusdal. Do you wanna be a PalsHead too?

Read more…