Between the devil and the deep blue sea
October 10th, 2012
We had a great gig with Korova Milkbar and The Plastic Pals at Skål last Saturday. And the one and only Stargirl B-grrrlie was there capturing a few songs. Here´s "Between the devil and the deep blue sea" – which will be released as a single later in November.

Do you remember the Saturday gigs?
October 2nd, 2012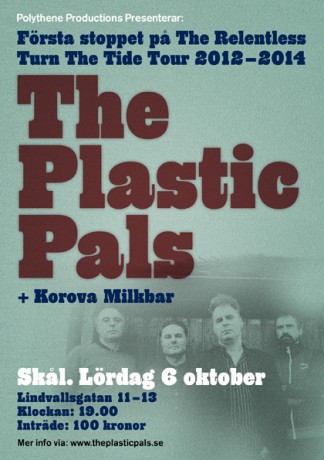 We do… we do… And this Saturday we´re doing a double bill with the awesome reunited Korova Milkbar at the same crime scene as when Chris Cacavas was here in Stockholm in January: Skål.

Read more…
Don´t let this moment pass you by
September 5th, 2012
Hi all Pals! Hope your summer´s been real good and that you´ve missed us as much as we´ve missed you. We are getting back into the swing rehearsing, preparing for the release of the new album Turn The Tide (release in January 2013) a new single release in November and booking new gigs. In the meantime we give you this videoclip – by way of the one and only Stargirl B-grrrlie – from our latest gig, with Little Steven´s Underground Garage´s favourites Stupidity at The Liffey in Stockholm: Here comes the sun, "Riding the rollercoaster, don´t let this moment pass you by"

Read more…