December 20th, 2012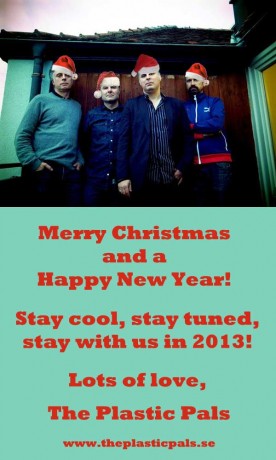 First of all, from all of us at The Plastic Pals mothership to all of you, thanks for all your support and a Merry Christmas and a Happy, Healthy and Prosperous New Year. As a token of our gratidude to you supporting us we have a Christmas gift for you. Just click the picture above and there you go. Also wanna tell you that we are now taking pre-orders of new album Turn The Tide.
Read more…
New single released – Between the devil and the deep blue sea
November 21st, 2012
Today new single "Between the devil and the deep blue sea" was released. With this cool video by Calle Brandt, made from live clips from The Internet´s answer to CRB (Citizen Radio Band): Bgrrrlie. The single (from new upcoming album "Turn The Tide") is available via all major digital download and streaming services, Itunes, Spotify, etc. It´s also getting a lot of airplay alreday.
Read more…
The Vinyl Remedy – new album (180 grams vinyl) soon available for pre-order
November 15th, 2012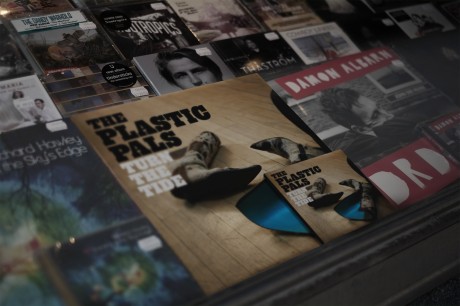 Yes, yes, yes….It´s been a long time waiting. We know! But soon the new album Turn The Tide will arrive from the pressing plant in Essex, UK. An 180 grams deluxe vinyl in a limited run of 300 copies (including CD with all 13 tracks). And soon we´ll start taking pre-orders. Interested?…
Read more…
Between the devil and the deep blue sea
October 10th, 2012
We had a great gig with Korova Milkbar and The Plastic Pals at Skål last Saturday. And the one and only Stargirl B-grrrlie was there capturing a few songs. Here´s "Between the devil and the deep blue sea" – which will be released as a single later in November.

Do you remember the Saturday gigs?
October 2nd, 2012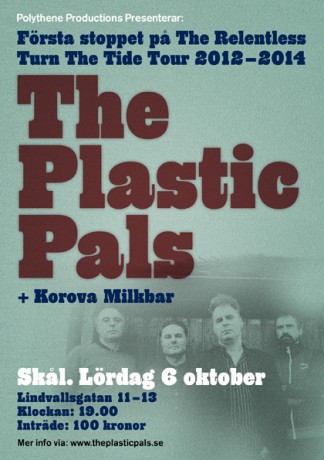 We do… we do… And this Saturday we´re doing a double bill with the awesome reunited Korova Milkbar at the same crime scene as when Chris Cacavas was here in Stockholm in January: Skål.

Read more…
Don´t let this moment pass you by
September 5th, 2012
Hi all Pals! Hope your summer´s been real good and that you´ve missed us as much as we´ve missed you. We are getting back into the swing rehearsing, preparing for the release of the new album Turn The Tide (release in January 2013) a new single release in November and booking new gigs. In the meantime we give you this videoclip – by way of the one and only Stargirl B-grrrlie – from our latest gig, with Little Steven´s Underground Garage´s favourites Stupidity at The Liffey in Stockholm: Here comes the sun, "Riding the rollercoaster, don´t let this moment pass you by"

Read more…
Hawk in interview with Final Frontier Radio (US)
June 2nd, 2012
Friday June 1 Hawk was interviewed by Rick Busby on Final Frontier Radio (Harrisburg, PA, USA). Chatting on the band, the story about the band and the name of the band, the story behind the Good Karma Café album, the new album and plans for future gigs. Tunes played were "Leave it ´til tomorrow" and "The Sweet Spot".
Read more…
PalsHeads from the Valley of Light
June 1st, 2012
A cool bunch of guys from Ljusdal (means Valley of light) – that´s in Hälsingland, Sweden – turned up at our gig The Liffey in Stockholm Saturday May 26. One of them got so excited he bought Plastic Pals t-shirts to all his pals. So now we´ve extended our cool group of PalsHeads to Ljusdal. Do you wanna be a PalsHead too?

Read more…
Plastic Pals with Flaming Lips
May 3rd, 2012
This is awesome news. Our single Leave it ´til tomorrow is on fine UK Americana blog Mad Mackarel´s Best of the Month list for April. And the fact that The Flaming Lips are on the list too is really cool.
Read more…
A Plastic Viking in New York – Hawk with the Band of Outsiders
April 2nd, 2012
Saturday last weekend,March 24th Hawk visited New York for the first time. And friends from legendary CBGB´s and Max´s Kansas City combo Band of Outsiders had set up a gig at The Lakeside Lounge in Greenwich Village for a triplet guitar party.

Read more…