"Superb, quitely, brooding roots rock" – R2 Magazine, UK, on "Miracles"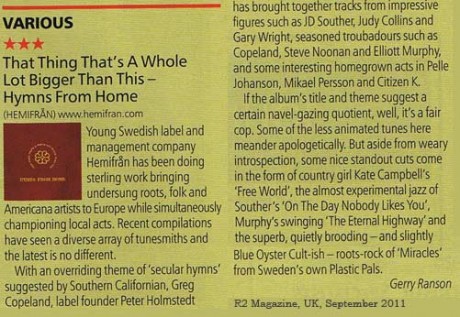 One of the standout cuts is "the superb, quitely brooding – and slightly Blue Öyster Cultish roots-rock of Miracles´ from Sweden´s own Plastic Pals." That´s the verdict from UK´s best selling eclectic music magazine R2 – Rock `n´Reel – on Music From Home´s compilation "Hymns from Home", where The Plastic Pals´new tune "Miracles" is included.

And there´s good company on this compilation. Other standout cuts, according to reviewer Gerry Ranson are Kate Campbell´s "Free World", "… the almost experimental jazz…" of JD Souther´s "On The Day Nobody Likes You" and Elliott Murphy´s "The Eternal Highway".
Cudos to Gerry Ranson and R2 Magazine for this.
Check out R2 Magazine http://www.rock-n-reel.co.uk
Buy or stream "Miracles" on one of the following outlets:
Spotify
Itunes
Amazon
Platekompaniet
Hemifrån/Music From Home