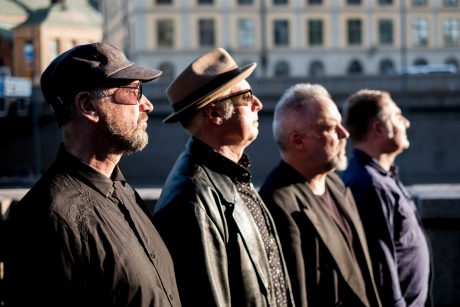 "Tighter than Willy Deville´s crocodile boots."
(Anders Tapola, Swedish paper Smålandsposten)

Magic melodies with a dark edge. Manna from guitar heaven for friends and fans of The Dream Syndicate, The Flamin´ Groovies, The Long Ryders, The Velvets and Television.

Take the fiery twin guitars. Add a pinch of powerpop melody sensibility, garage rock groove and New York style psychedelia a la The Velvet Underground

and Television. Mix with with witty and a dash dark edged, sardonic lyrics. Bring to the boil with a soulful and groovy base of drums and bass. Stir well and season to taste with the finest spices from the legacy of rock and roll – from Hank to Hendrix, from Gram to The Long Ryders, from The Beatles to Big Star, from Townes to Paul K, from Coltrane to Television. The list goes on… There you have the taste and the sound of these guitar slingers from Stockholm, Sweden – The Plastic Pals. Dinner is served – Bon Appetit!
Formed in 2005, The Plastic Pals have opened for The Dream Syndicate, Dan Stuart (Green on Red), Chris Cacavas (Green on Red) and ex-Green on Red guitar slinger Chuck Prophet, Australian garage rock legends The New Christs – with Rob Younger from Radio Birdman and Jim Dickson from The Barracudas – and Steve Wynn, founder of The Dream Syndicate.
The Plastic Pals have also played in New York twice, 2013 (when they also played in New Jersey) and 2015. In November 2015 they played in Milano together with their Italian friends Lowlands. The band has also played several times in London.
Instrumentation:
Håkan "Hawk" Soold – Vocals, Guitar
Anders Sahlin – Guitar, Backing Vocals
Bengt Alm – Bass, Backing Vocals
Olov Öqvist – Drums
Discography:
Psychic Reader (CD album) 2018
Riding with Elvis (7″ vinyl single) 2015
Turn The Tide (12″ vinyl and CD album) 2013
Good Karma Café 2008 (CD album)
"The band that´s fun to be with" 2006 (CD-EP)