High Five from McKenna Reviews, Pennsylvania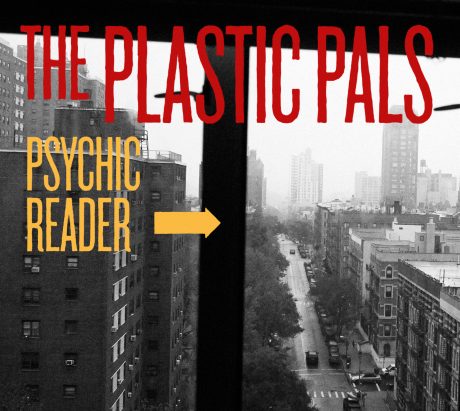 Hey, this site´s been down for awhile, due to various reasons. But now we´re back on track to give you news – older and newer ones – about what´s going on in the Plastic Pals world. Starting with a great review from October 2019.
We´re an indie band, for sure. And hence we love dedicated true indie reviews. Fanzine kinda reviews. The love, the dedication. Those who really pay attention. And listen. Like this high five review from McKenna Reviews, Pennsylvania for new album Psychic Reader.
Here goes:
October 29, 2018
The Plastic Pals
"Psychic Reader" LP
"Take the fiery guitars of bands like Television, Flamin' Groovies and The Dream Syndicate, add a pinch of Lou Reed and The Velvet Underground and a dash of magic melodies with a dark edge. Bring to the boil with a soulful and groovy base of drums and bass. Stir well and season to taste with the finest spices from the legacy of rock and roll – from Hank to Hendrix, from Gram to The Long Ryders, from The Beatles to Alex Chilton, from Townes to Paul K, from Coltrane to Television. The list goes on… Bon Appétit! There you have the taste and the sound of these guitar slingers from Stockholm, Sweden – The Plastic Pals. Dinner is served – Bon Appetit!" This is the recipe in the words of The Plastic Pals.
Their music takes you to another place in space and time. This four-piece psychedelic/garage rock combo was formed in Sweden in 2005 and have been rocking Scandinavia ever since. Their paisley power pop rock comes from members: Bengt Alm, bass and backup vocals; Håkan Soold, lead vocals and guitar; Olov Öqvist on drums & percussion and Anders Sahlin on guitar & backup vocals.
Their latest 12-track CD opens with "Psychic Reader" which is a mid-tempo tune that has that retro-mod flavor from days gone by. The bridge is infectious and the solos grab you in an instant with that insane power projection of the percussion and guitar riffs. The vox are BOSS! "Love All the Things You Hate" has a nice power pop feel and gives the listener happy vibes. "Connecting" grabs you with a phone ringing and a funky backbeat. This is reminiscent of some of the 70's jams back in the day…COOL! "Shame the Devil" is just totally off the hook…it just holds the listener from start to finish. "Cat On A Hot Tin Roof" has a definite 80's Punk/Garage flavor that is way cool. This upbeat track will be a dance floor favorite! BANGING!
"Weight of the World" tells an awesome story about a young man who is dealing with a whole lot of things that he needs to remove. 'Walking on egg shells waiting for my cue'….You have to listen to this multiple times to get the real feel. WOW! "Clerkenwell" is a track that I can hear some old Joe Jackson. This is one of the best tunes on this LP….WAY COOL! "Timing is Everything" will be another crowd favorite. This toe-tapping song will get you to the dance floor in an instant! This could be a possible ALT format hit! YES! "Riding With Elvis" reminds me a lot of Elvis Costello and The Attractions in its makeup and projection. This power/pop number is another radio possibility in the Alt/Rock formats. NICE! The final track, "Invisible" takes things down a notch and is accented nicely by the strings and the vox which come from down deep. The observations noted in the lyrics show the listener what matters and what doesn't matter to him. The solos give this a fullness that wrap the entire track and put the icing on the cake. GOOD FEELINGS!
The Plastic Pals give the discerning listener a full slate of tunes from the sublime to uptempo on this 3rd LP that will keep you coming back for more. Quite a few tracks standout and could make it to mass appeal radio and Internet outlets. This CD drops on November2, 2018….Give it some love! This CD is a MUST LISTEN! On my Storm Scale, I give this a rousing FORCE 5! WELL DONE!
Review by Michael Mckenna
McKenna Reviews
Well… it´s reviews like these as well as tales by fans being hit by your music, telling tales like these that keep us going on making this music.
Keep ém coming and we promise to deliver!
Love!
The Plastic Pals
PS Listen on Spotify. DS
Tags: Bucketfull of Brains, CBGB´s style, guitars, New York-rock, paisley underground, powerpop, psyche, Stockholm, The Plastic Pals, twin guitars