International Pop Overthrow to Stockholm this weekend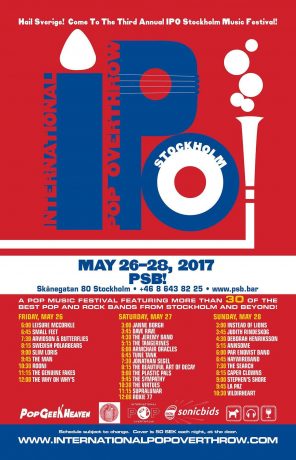 This weekend – 26-28 May – the American festival International Pop Overthrow (IPO) comes to Stockholm. Several great bands on the menue. And The Plastic Pals are on the bill.
IPO Stockholm is held at PSB (Skånegatan 80, Stockholm, Sweden). The Plastic Pals hit the stage on Saturday 27 May at 9 pm.
Many other cool bands are playing and several of them friends of ours: Arvidson & Butterflies, The Tangerines, The Genuine Fakes, The Virtues, Janne Borgh and last but not least Jonathan Segel.
IPO started in Los Angeles 18 years ago. And for various years the festival has been held in Chicago, New York (where The Plastic Pals played 2013), Boston, San Francisco, Phoenix, Detroit, Atlanta, Portland, Nashville, Austin, Vancouver, and Toronto, as well as in Liverpool (at the world famous Cavern Club) – where The Plastic Pals played 2013.
Tags: garage rock, powerpop, psychedelic pop, twin guitars