Plastic Pals in acoustic instore at Pet Sounds Records, Stockholm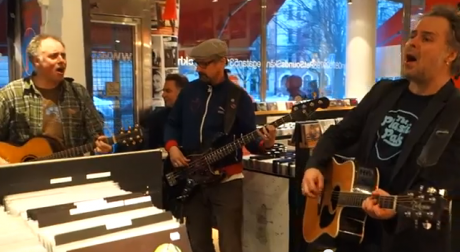 The other day we played an acoustic instore at Pet Sounds Records here in Stockholm. We love doing these laid back shows as much as we love playing electric shows.

For being a winter break in Stockholm with 2/3 of the city off skiing it was a pretty good turn-out. And those who showed up seemed to enjoy themseleves as much as we did.
Below is a video clip from the instore show, captured by the ubiquitous Stargirl B-grrrlie, the CRB (Citizen Radio Band) of the Internet, according to Steve Wynn.
Wanna hire us for a house concert? Just drop us a line!
Tags: alt-country, alt-rock, Bucketfull of Brains, Chris Cacavas, garage rock, Giant Sand, heroin disco, indie rock, psychedelic pop, Sweden, The Plastic Pals, twin guitars