February 20th, 2015
Today Friday 20th Riding with Elvis is being played on Genya Ravan´s super cool show Goldie´s Garage on Little Steven´s Underground Garage. Also, the tune is debuting on Jonathan L´s radio show Loopsided World of L.
Just a week before we´re leaving Sweden for a tour to New York and Connecticut, Little Steven´s Underground Garage dj Genya Ravan is playing Riding with Elvis on her show Goldie´s Garage. Tune in @ 9 PM Pacific & East Coast on Sirius/XM Satellite Radio – Channel 21.
Also today, the song debutes on Berlin-based radio dj Jonathan L´s show Loopsided World of L. A show that´s broadcasted via Berlin, Liverpool, Tuscon (Arizona), Phoenix (Arizona), Gothenburg (Sweden), Wellington (New Zealand), Sydney (Australia) and Los Angeles. Starting today at 7 pm CET via Mersey Radio, Liverpool. Jonathan L is nominated for 2015 International Radio Personality.
November 7th, 2013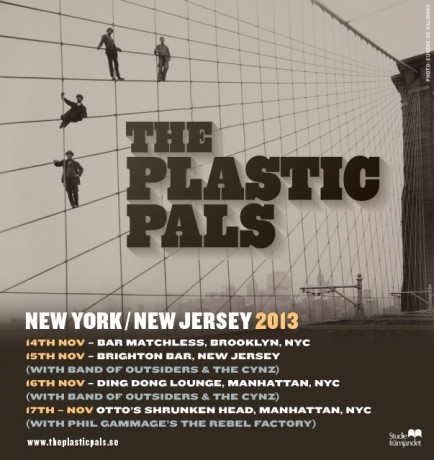 "Sorry it took so long, but we were just tuning." Just like everybody else we were devastated to hear the news about Lou Reed´s passing. And now this quote from his Live Take No Prisoners album comes to mind. So sorry for having neglected this page for a while. But we´ve been busy tuning. Tuning this rock and roll machine of ours into perfection for our first plunge across the Atlantic pond.
Read more…
March 16th, 2013
Several chances to catch The Plastic Pals on the air right now. We´re included on the 205th Deuce Radio Show which can be listened to by clicking the player above. But wait, there´s more to it. Deuce Radio show is broadcasted on a substantial number of radio stations in the US, the UK, Sweden, Spain and other countries.
Read more…
March 3rd, 2013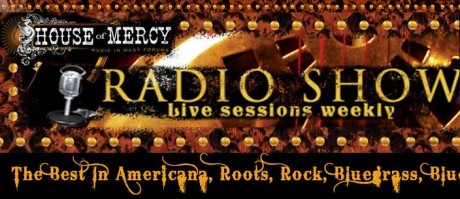 Saturday March 2 The Plastic Pals were added to the playlist on House of Mercy Radio Show hosted by Barry Marshall Everitt. Barry is a great supporter of americana and roots music and have played us Plastic Pals on his show before. Nice to be back! Check for your radio station playing House of Mercy Radio Show on the House of Mercy website.
Read more…
January 11th, 2013
The Turn The Tide vinyls have arrived from the pressing plant. They both look and and sound beautiful. And we are taking pre-orders! Feel free to contact us for a hand numbered copy.
Read more…
January 11th, 2013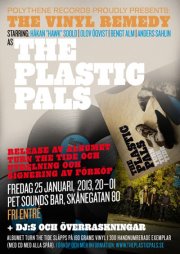 Any day now, anyway now, we shall be released! Everyone who are in Stockholm January 25th – most welcome to our release party The Vinyl Remedy at Pet Sounds Bar! Celebration of our new album Turn The Tide

Read more…
January 11th, 2013
Saturday January 12th, Hawk was on a live interview on John Talk Radio from Jefferson, Ohio. The show is available for download or streaming.

Read more…
January 11th, 2013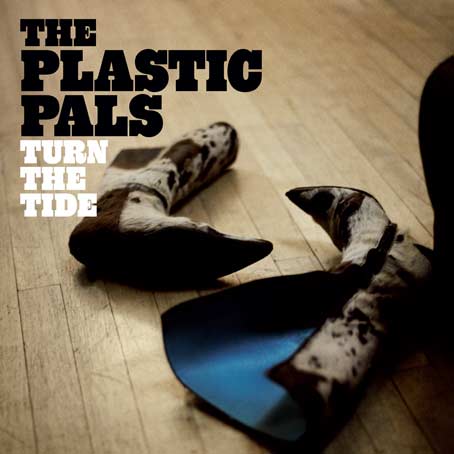 Dear fans and friends! To celebrate the upcoming release of our new album Turn The Tide plus the fact that we love you so much and cherish your support, we are sharing one of the tunes A Turn Of The Tide as a free download.

Read more…
November 21st, 2012
Today new single "Between the devil and the deep blue sea" was released. With this cool video by Calle Brandt, made from live clips from The Internet´s answer to CRB (Citizen Radio Band): Bgrrrlie. The single (from new upcoming album "Turn The Tide") is available via all major digital download and streaming services, Itunes, Spotify, etc. It´s also getting a lot of airplay alreday.
Read more…
June 2nd, 2012
Friday June 1 Hawk was interviewed by Rick Busby on Final Frontier Radio (Harrisburg, PA, USA). Chatting on the band, the story about the band and the name of the band, the story behind the Good Karma Café album, the new album and plans for future gigs. Tunes played were "Leave it ´til tomorrow" and "The Sweet Spot".
Read more…