Release party January 25th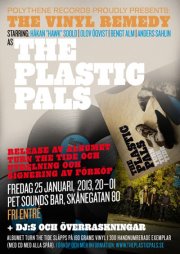 Any day now, anyway now, we shall be released! Everyone who are in Stockholm January 25th – most welcome to our release party The Vinyl Remedy at Pet Sounds Bar! Celebration of our new album Turn The Tide

There will be dj:s spinning vinyls, The Plastic Pals performing live + surprise/s. The fun starts at 8 pm. And it´s at Pet Sounds Bar, Skånegatan 80, Stockholm. Free entrance, of course!
The new album Turn The Tide comes as a hand numbered 180 gram vinyl, including a CD with all tracks. It will be available for purchase – or for pick-up for those who gave preordered it.
Most welcome!
Tags: alt-rock, americana, Birds will sing for you, Bucketfull of Brains, CBGB´s style, Chris Cacavas, Chuck Prophet, garage rock, Green on Red, guitars, indie rock, Lou Reed, New York-rock, paisley underground, Peter Holmstedt, powerpop, psyche, psychedelic pop, quirky dream-pop, radio, Release, release party, Steve Wynn, Stockholm, Sweden, Swedish, Television, The Rolling Stones, Turn The Tide, twin guitars, Velvet Underground, vinyl album