November 2nd, 2018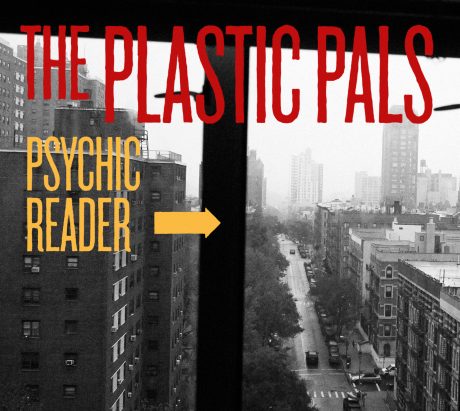 Our new album Psychic Reader was released today. It´s a co-release between our own label Polythene Records and Paraply Records. Scandinavian distribution via Border.
Read more…
April 12th, 2015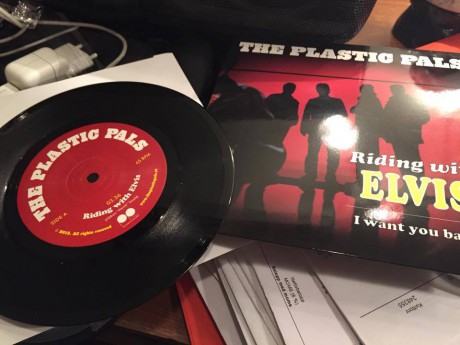 Record Store Day, Saturday April 18, we release our first 7″ vinyl – hand numbered limited edition in 200 copies: Riding with Elvis/I want you back. We will play two instore gigs in Stockholm: at The Beat Goes On and at Pet Sounds Records. In the evening we´re playing at Southside Cavern, with Jonathan Segel (Camper van Beethoven) as support. Jonathan will also be sitting in with us on a couple of tunes.
Riding with Elvis has, as you may well know, already been released digitally via World Wide Vibe Records, NYC. However, I want you back, our first release ever of a cover song (originally released by Jackson 5), hasn´t been released before. Apart from this snippet the only way to hear this version of ours is to buy this vinyl single, that also comes with a unique download code for both songs.
The vinyl single can be purchased at our Record Store Day gigs (and later gigs as well as long as the stock lasts). After Record Store Day it can also be purchased via the shops where we´re playing at on that day: The Beat Goes On and Pet Sounds, as well as via Hot Stuff Mailorder + you could alway buy it straight from us – more info on how will come soon.
On Record Store Day our schedule is as follows:
* 1:30 pm: The Beat Goes On, S:t Eriksgatan 67
* 4:15 pm: Pet Sounds Records, Skånegatan 53
* 8 pm: Southside Cavern, Hornsgatan 104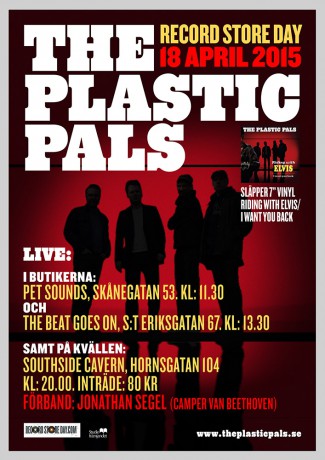 April 11th, 2015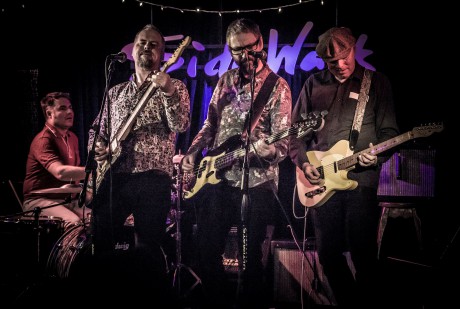 It´s over a month now since we got back from New York. But we´ve been busy with other things and haven´t gone round to updating. Sorry ´bout that. We had two great shows: the World Wide Vibe Records night at the Sidewalk Café and Bowery Electric. Adding to that a web tv interview at the Rew & Who? show (where we played at tune) at Otto´s Shrunken Head plus an interview with legendary radio host Bill Kelly at WFMU in Jersey City.
Read more…
February 27th, 2015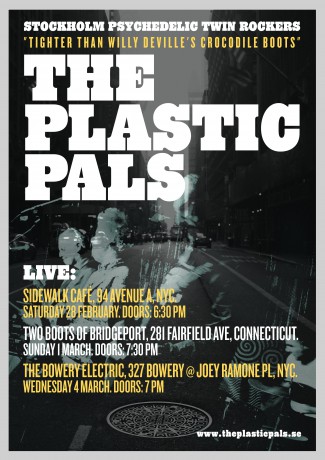 The Plastic Pals are playing three shows on US East Coast February 28 – March 4. First a World Wide Web Records label night at Sidewalk Café, Manhattan, Saturday February 28. The Two Boots, Bridgeport, Connecicut, Sunday March 1. Last gig is at The Bowery Electric, Wednesday March 4.
Read more…
March 26th, 2014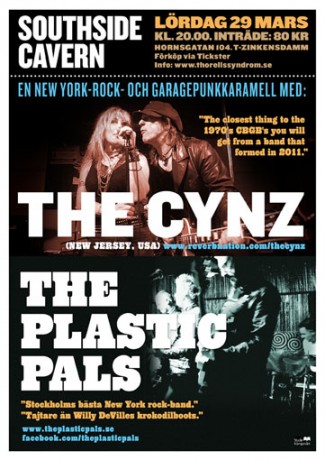 This week our pals The Cynz from New Jersey are coming to Sweden. Fronted by bombshell Cyndi Dawson – spoken word and poetry rock and roll femme fatale with an amazing stage persona – they´re a rock and roll tsunami that recalls the CBGB´s days and artists like Patti Smith and Jim Carroll. And now they´re playing with us in Eskilstuna, Stockholm and Uppsala. Can´t wait!
Read more…
March 25th, 2014
A year ago our latest album Turn The Tide was released. Now we have released a behind the scenes-video on YouTube, with clips from the making of the album.
Read more…
February 11th, 2014
Good news peeps! The video to our new single The Final Remedy is now up and running on YouTube.
Read more…
November 7th, 2013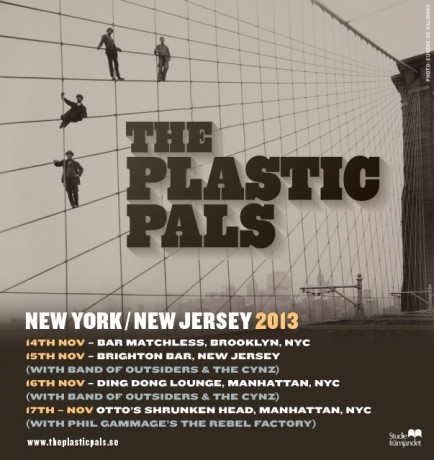 "Sorry it took so long, but we were just tuning." Just like everybody else we were devastated to hear the news about Lou Reed´s passing. And now this quote from his Live Take No Prisoners album comes to mind. So sorry for having neglected this page for a while. But we´ve been busy tuning. Tuning this rock and roll machine of ours into perfection for our first plunge across the Atlantic pond.
Read more…
September 16th, 2013
In October and November The Plastic Pals are on tour. 9–12 October in Sweden – Stockholm, Gövle, Malmö and Göteborg – with Chris Cacavas (who´ve played with Green on Red, Giant Sand and Calexico). And 14–17 November the tour goes to New York and New Jersey, where The Pals will be playing with Band of Outsiders, The Cynz and Phil Gammage´s The Rebel Factory.
February 5th, 2013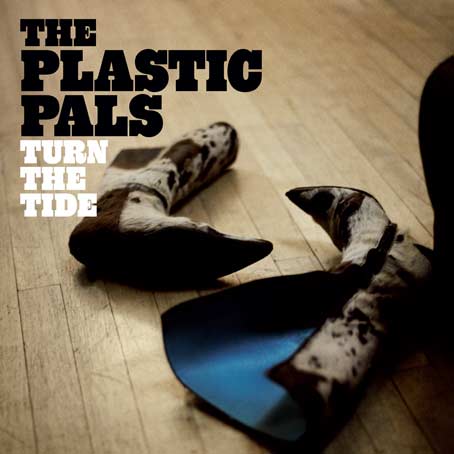 Today February 6th our precious new album Turn The Tide is released. We celebrate this by streaming the entire album here:
Read more…