The Plastic Pals to Milan for a joint gig with Lowlands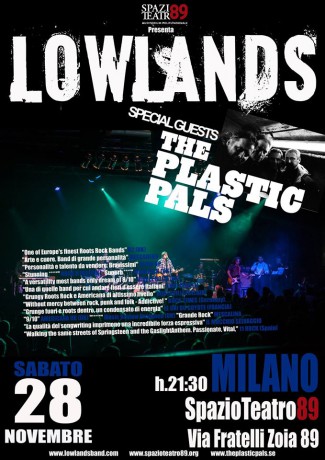 Friday 27 November we jump on a plane to Milan to play our first ever gig in Italy. Saturday 28 November we play Spazio Teatro 89 in Milan with our friends, the amazing rock amerciana band Lowlands, who came to play with us in Stockholm 2013. So this is the second leg in the Sweden-Italy musical collaboration between the two bands.
It is a huge honour for us having been invited to play with our friends Lowlands at the prestigious theatre Spazio Teatro 89 in Milan 28 November. Lowlands played with us in Stockholm May 2013 and it is so nice of them to return the favour and invite us to play in Milan:
LOWLANDS and THE PLASTIC PALS at Spazio Teatro 89, Milan 28 November
The friendship and collaboration between the two bands started with The Plastic Pals´s singer/guitarist Hawk and Lowlands´s counterpart Ed Abbiati getting to know each other via mutual friend ex Green on Red cat Chris Cacavas (who´s also played with Giant Sand, Danny&Dusty, Steve Wynn, The Dream Syndicate, to name a few). Chris Cacavas has also produced records with Lowlands and The Plastic Pals (the latest album Turn The Tide).
Cacavas and Abbiati have also collaborated on the album Me and the devil (2014). The Plastic Pals will also contribute with a song on Abbiati´s next project, the second Lowlands and Friends album: a compilation of Townes van Zandt songs, with contributions from various bands and artists from around the world. The first one he did was a compilation of Woody Guthrie songs a couple of years ago: Lowlands and Friends play Woody.
This will be The Plastic Pals´s first gig ever in Italy, but not the last one for sure. The Sweden-Italy musical collaboration between The Plastic Pals and Lowlands will continue. No two ways about it!
Tags: alt-rock, americana, Bucketfull of Brains, CBGB´s style, Chris Cacavas, Chuck Prophet, Elvis Presley, garage rock, Giant Sand, Green on Red, guitars, indie rock, Lou Reed, New York-rock, paisley underground, powerpop, roots, Stockholm, Sweden, Television, twin guitars, Velvet Underground