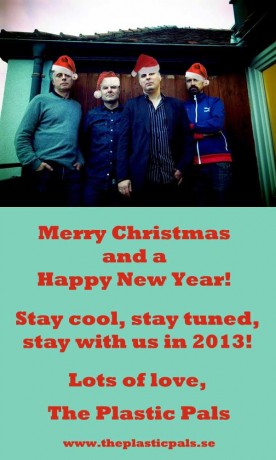 First of all, from all of us at The Plastic Pals mothership to all of you, thanks for all your support and a Merry Christmas and a Happy, Healthy and Prosperous New Year. As a token of our gratidude to you supporting us we have a Christmas gift for you. Just click the picture above and there you go. Also wanna tell you that we are now taking pre-orders of new album Turn The Tide.
Turn The Tide comes in a limited edition of 300 hand-numbered 180 gram vinyls, containing a CD with all tracks. Official release date is February 6. But since we have this numbering and we guess you guys wanna get as low a number as possible, we are taking pre-orders now already.
How then do I do to get my precious?you may wonder. Well, by the simple process of sening an e-mail to Our Polythene E-mailtelling us you want to buy a copy – or several. And you´ll be added to the list and a number (or numbers). Then later more information about payments and other wordly things will follow. Simple as that!
For those of you in Stockholm just a reminder about our pre-release gig party at Pet Sounds Bar tonight December 20. We will play two sets – one short one and one long – and we have Jonathan Segel from Camper van Beethoven as our special guest!
Now Happy Holidays to ya´ll.
The Plastic Pals
Tags: alt-rock, americana, CBGB´s style, Chris Cacavas, Chuck Prophet, garage, Giant Sand, Green on Red, guitars, indie rock, Lou Reed, New York-rock, powerpop, psychedelic, psychedelic pop, Steve Wynn, Television, The Rolling Stones, Velvet Underground