Italian band Lowlands on a double bill with us in Stockholm April 20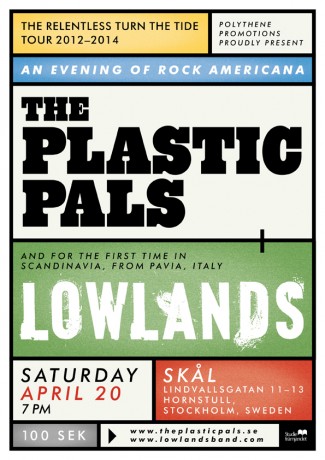 Saturday April 20 is a not-to-miss-date for friends and fans of americana, roots rock and psychedelic jangly guitar pop in Stockholm. The Plastic Pals have invited fantastic Italian americana band Lowlands for a double bill gig at Skål, Hornstull, Stockholm.
Not only is is Edward Abbiati a very gifted songsmith, singer and leader of the wonderful americana/roots rock act Lowlands from Pavia, Italy, who is also a friend of and have been working with our producer Chris Cacavas. Last year he also released a great album of Woody Guthrie songs – in celebration of it being 100 years since the folk legend was born.
So it is a huge honour for us in The Plastic Pals to welcome this amazing Italian band, Lowlands, to come and play with us in Stockholm in April.
Gig details:
Skål – Lindvallsgatan 11–13, Hornstull, Stockholm
Saturday April 20
7 PM
Entrance fee: 100 SEK
Facebook event page
Check out Lowlands on their website.
Tags: alt-country, alt-rock, americana, Bucketfull of Brains, CBGB´s style, Chris Cacavas, Chuck Prophet, Elvis Presley, Giant Sand, Green on Red, guitars, indie rock, Italy, Lowlands, NBT Music. Next Big Thing, Pavia, Peter Holmstedt, powerpop, psyche, psychedelic pop, quirky dream-pop, Steve Wynn, Stockholm, Sweden, The Plastic Pals, The Rolling Stones, twin guitars, Velvet Underground, Woody Guthrie