March 20th, 2020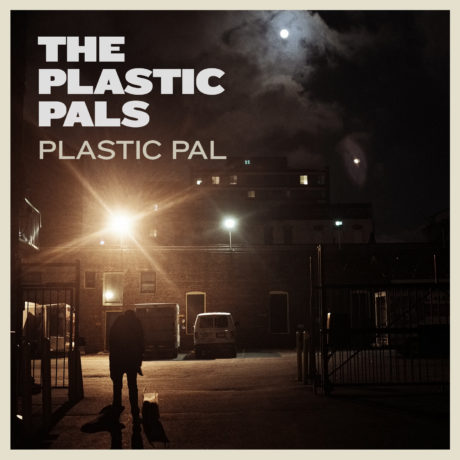 A new single, Plastic Pal, is slated for release Friday March 27. Will be available on all major download and streaming services. The single´s getting airplay already this weekend in Greece and the UK.
Read more…
June 29th, 2018
This fall we´ll release a new Plastic Pals album – as yet to being given a title. Final mixes are done and next week we´re going to mastering. For those who wanna have their name on the cover we are taking pre-orders until 13 July./strong>
Read more…
May 14th, 2013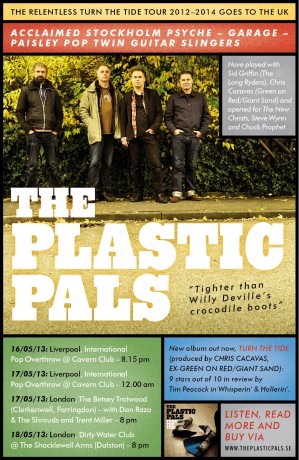 This week – 16th May to 18th May – The Plastic Pals are going on a mini tour to the UK. Thursday May 16 and Friday May 17 we´re playing at The Cavern Club as a part of the line up for the 11th festival Internartional Pop Overthrow, Liverpool. Straight after last Liverpool gig, Friday 17th May, we go straight down to London to play at The Betsey Trotwood in Clerkenwell. Last gig of this tour is Saturday 18th May when we play at the Dirty Water Club at The Shacklewell Arms in Dalston, London.
Read more…
March 28th, 2013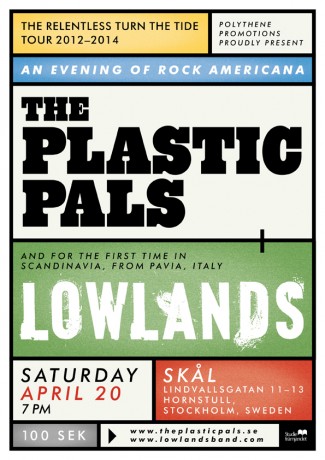 Saturday April 20 is a not-to-miss-date for friends and fans of americana, roots rock and psychedelic jangly guitar pop in Stockholm. The Plastic Pals have invited fantastic Italian americana band Lowlands for a double bill gig at Skål, Hornstull, Stockholm.
Read more…
March 28th, 2013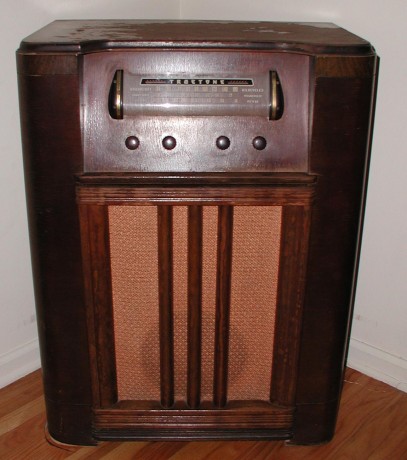 Tunes from our new album Turn The Tide are getting a lot of airplay right now in Holland, Germany, the UK, Sweden and Denmark. This weekend – Friday March 29 and Sunday March 31 on the Along The Tracks from the UK.
Read more…
March 16th, 2013
Several chances to catch The Plastic Pals on the air right now. We´re included on the 205th Deuce Radio Show which can be listened to by clicking the player above. But wait, there´s more to it. Deuce Radio show is broadcasted on a substantial number of radio stations in the US, the UK, Sweden, Spain and other countries.
Read more…
February 5th, 2013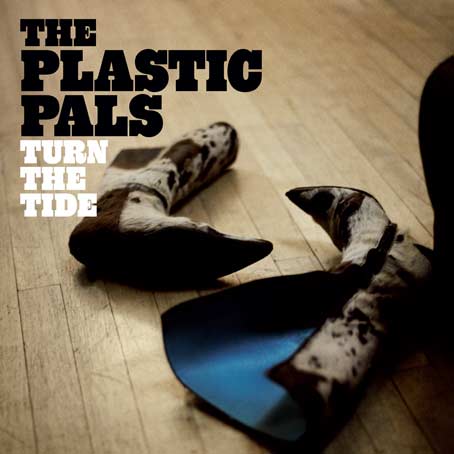 Today February 6th our precious new album Turn The Tide is released. We celebrate this by streaming the entire album here:
Read more…
November 21st, 2012
Today new single "Between the devil and the deep blue sea" was released. With this cool video by Calle Brandt, made from live clips from The Internet´s answer to CRB (Citizen Radio Band): Bgrrrlie. The single (from new upcoming album "Turn The Tide") is available via all major digital download and streaming services, Itunes, Spotify, etc. It´s also getting a lot of airplay alreday.
Read more…
November 15th, 2012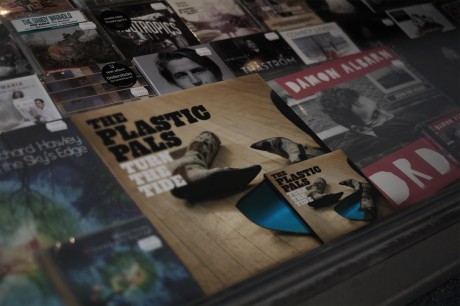 Yes, yes, yes….It´s been a long time waiting. We know! But soon the new album Turn The Tide will arrive from the pressing plant in Essex, UK. An 180 grams deluxe vinyl in a limited run of 300 copies (including CD with all 13 tracks). And soon we´ll start taking pre-orders. Interested?…
Read more…
June 1st, 2012
A cool bunch of guys from Ljusdal (means Valley of light) – that´s in Hälsingland, Sweden – turned up at our gig The Liffey in Stockholm Saturday May 26. One of them got so excited he bought Plastic Pals t-shirts to all his pals. So now we´ve extended our cool group of PalsHeads to Ljusdal. Do you wanna be a PalsHead too?

Read more…